Thomas "Tri" Schmitt
Tri as a Scorcher

Vital statistics

Position
Driver of '70 Plymouth Roadrunner
Age
27
Status
Scorchers

Physical attributes

Height
5' 11"
Weight
187 lb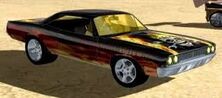 Hailing from Hawaii, Thomas "Tri" Schmitt was born on October 4th, 1974. He worked at a Car dealership for Ford. After some time, he quit to start racing for them.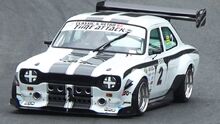 Thomas restored a 1970 Ford Escort and converted it to a GRC racecar with the help of Hephaestus. He got the nickname "Tri" by winning the GRC three times in a row. Soon, he suffered a tragic crash and a major burn from a volcano on his arm. His rival George saved his life.
He was recruited for the World Race by Dr. Tezla after he saw his skills off-road. He tries to help most other drivers if they're in danger.  He has a close friendship with Street Breed's Leader Adam Carter. In the first leg of the race Thomas came in last because, he turned around with Adam to save Alex. When a fistfight broke out between Cadence and Crowley, Thomas was Quick to react and was able to save Crowley from choking to death.
In the Jungle Leg , he got into a wreck with: Helen Tremblay, Jason Walker, Akio Averill, Carl Dane and Crowley and ran out of nitrox when trying to finish ahead of Alex and Agata. In the Desert Leg Toby Boyle shot him in the arm seriously injuring him. With the help of Hephaestus, Adam Carter and Crowley, he was able to get out of the Desert Leg alive. After the Desert Leg, he explained to Tezla the incident and gave him 36 hours to rebuild his car and if he could not do it in time he would not participate in the next leg.
Soon, his father came in and got rid of Toby Boyle for good and Thomas said he would return to Fort Lloyd after the World Race.
I based Thomas's characteristics around myself.
Thomas is Triforce2002's middle name in real life.