The Cube is a safe house/HQ for the racers in the world race. There are three different cubes placed around the world by Dr. Tezla to be used in the World Race. Each cube is built near the portal to the next leg of the race.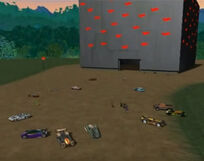 Although this was the safe house for the drivers, it wasn't very safe. Before the first leg had started there were two fights, one of them was physical.
At the second cube, the drivers have been told that they will be racing as teams. CJ and Cadence are the only drivers to have been chosen as leaders due to their placement in the first leg. Tri, Adam, and Grim were dubbed leaders of their team due to how they drove during the first leg. Now, the leaders must recruit five drivers each for their team.
Several more fights had broken out while the leaders were recruiting more drivers. The first one started between Crowley and Cadence, when Cadence threw a tire iron, and hit Carl in the head, knocking him unconscious, Crowley then attacked Cadence, and Crowley was almost strangled to death, if it wasn't for Thomas. The second fight was between several drivers of all teams as a battle royale style type fight. It was rumored that the winner of said fight would start in front of the pack. There was no clear winner. The third fight was between Cadence, and Jared Crane. Jared had attacked Cadence, after he was drenched in oil and transmission fluid, from a sabotage by Cadence on Moto-Crossed. Finally, Zack Winston had arrived so it was time to start the next leg. The Dune Ratz started in front followed by the Road Beasts, Street Breed, Wave Rippers, and then the Scorchers in the back.
After the second leg of the race at the third cube Dr. Tezla announced that it ended in a tie Between Alex Hysannes and Agata Adrijan. While celebrating another successful leg of the World Race, Gaige bought up an idea of the drivers revealing their deepest fears while some did and some didn't.
The next morning, the drivers lined up to start the third leg the Road Beasts started up front followed by the Wave Rippers, Scorchers, Dune Ratz and Street Breed at the back of the pack.
Once the third leg of the World Race was over, Toby "Quiet Lee" Boyle was arrested. Meanwhile, Thomas Schmitt with some others were rebuilding his '70 Roadrunner when a rag sparked a flame nearly burning down the whole cube. Crowley was quick to react and grabbed a fire extinguisher to prevent disaster.