Sebastien Noire
Sebastien as a Street Breed

Vital statistics

Position
Driver of Road Rocket
Age
37
Status
Street Breed

Physical attributes

Height
6' 0"
Weight
178 lb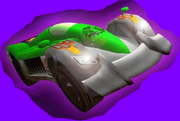 A fashionable, wealthy and suave Frenchman who contributed to the racing community since his youth beginning with the Formule Tour France series, though his racing career only nose-dived due to his lack of talent and his only strong point being money.
Born into French aristocracy, Sebastien Marcel Noire comes from a fine line of 'gentleman racers' – of which Sebastien has become the most famous.
By virtue of virtually unlimited money and talent, Sebastien initially made quick progress through the junior ranks, starting in the Formule Renault France series, through to Formule Renault Europe, and European Formula 3 before moving into Formula 3000… Then the wheels started to come off of his career. Unlucky enough to enter F3000 in the same year as the American ABC, he was vastly outclassed. Sebastien's reputation was destroyed by the season's end. When an F1 opportunity arose with a mid-grid, the Frenchman was overlooked. Because of this he took the opportunity to join Highway 35 without a second thought.
Sadly, Sebastien's lack of talent makes this his last chance to race. He will now never reach the pinnacle of his chosen pass-time, so he kids himself that he's a big fish in a small pond, where as the reality is quite the opposite…
Once the World Race is over, Sebastien plans on retiring from racing.
Sebastien is afraid of blood.
Sebastien placed 17th in the Jungle Leg, and 30th in the Desert Leg.