Jared Crane
Jared as a Roadbeast.

Vital statistics

Position
Driver of Moto-Crossed
Age
36
Status
Roadbeasts

Physical attributes

Height
6' 9"
Weight
243 lb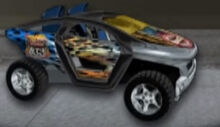 Crane made his name in the world of rallying and has been driving longer than some of the other drivers have been alive. A respected and proud driver, Crane is a genius behind the wheel.
A rally expert from Reykjavik, Iceland, Crane has spent nearly twenty years in racing – dating back to his humble beginnings racing tractors. Having driven in just about every rally championship in the world, Jared has a reputation for being a tough, uncompromising competitor – not to mention a fast one. His manner is usually gruff, bordering on rude. Much of this, however, can be put down to an acute sense of unease amongst people –painfully shy, he is much more at home with his machines.
Now approaching the twilight of his career, he may not be as fast as he once was, and the younger, faster stars of the rally scene have started to overtake him. Crane, however, is not just a thorough professional, he's also addicted to racing, and when an opportunity to join Highway 35 arose, he jumped at the chance.
Somewhat withdrawn and quiet, he works away in the background, conducting his craft with his usual degree of skill and dedication, bringing the car home race after race in good positions – a worthy achievement in itself. Respected by nearly all the drivers in the pit, Crane has no trouble finding help if something should go wrong on the track. But Crane's only real enemy is the young Canadian driver Cadence, who, in their first encounter with each other, sabotaged Crane's car causing him to be extremely humiliated in front of the other drivers. Infuriated by this uncharacteristic black mark on his reputation, Crane, a tenacious and focused man who bears a grudge with a vengeance, is going to make sure Cadence pays. If the Canadian really does enjoy pain so much – then Crane will be more than happy to oblige…
After the world race, Jared plans on visiting his sister and her family in Minnesota.