Carl "The Victim" Dane
Bruised, Battered Carl as a Dune Rat

Vital statistics

Position
Driver of Wild Thing
Age
29
Status
Dune Ratz

Physical attributes

Height
6' 3"
Weight
194 lb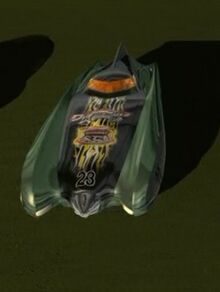 Carl Dane is always on the receiving end of the worst pile-ups, spin-outs, side-swipes and head-ons. He rarely finishes a race and has broken just about every bone in his body at one time or another...
Some drivers reach the very pinnacle of their sport, achieving the greatest accolades available in bright and glorious careers. More retire as respected professionals, held in high regard by colleagues and rivals alike. Others, maybe no less worthy, never fulfill their potential, robbed by bad luck or poor judgement… and some are just victims.
Carl is such a racing driver, he has made a career out of being the first driver to be rammed off the track, or the first to loose it on a corner – always with spectacular results. Carl, now known as "The Victim", has a record littered with seemingly fatal shunts, and horrifying crashes. Having broken just about every bone in his body, "The Victim" is a limping, grimacing collection of splints, casts, and bandages. He always bears fresh wounds, always sports new scars… You can always rely on him to give you a stupefying accident. Amazingly, The Victim is now a veteran in auto-racing, and he has more than a few friends amongst the Highway 35 line-up – all of which are awed by his courage and durability. Constantly trying to persuade him to retire whilst he can still walk, they wish him luck before each and every race, always convinced he won't be coming back, always convinced that the next inevitable shunt will finally finish him off…
So how does such a fundamentally unlucky driver keep his seat? Well, back home, so spectacular are the majority of The Victim's crashes that any sponsors are guaranteed hours and hours of exposure in re-plays alone. For sponsors, The Victim represents fantastic value for money, and his NASCAR Whelen Modified team owner has sponsors cueing up to get their names on his car. It doesn't matter that The Victim routinely writes off a car a race.
But what keeps The Victim going? What makes him put his body on the line race after race, injury after injury? Pride… and revenge. Convinced of his own skill, he's going to prove to the world that he isn't just a crash test dummy – he's a racer, and, when his luck finally changes, he's gonna beat 'em all. And when it is time for some 'payback', Vin is the first in line. Ever since he broke The Victim's arms just to steal a driveshaft, The Victim has been quietly waiting for his chance, the chance to make Vin pay – for the day The Victim becomes The Victor.